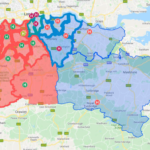 The elements within the Networks include the Cardiac Operational Delivery Network, King's Health Partners Cardiovascular, and the Vascular Networks of south east and south west London. The work programmes are harmonious and interrelated, creating a streamlined, yet holistic, solution to strategic and operational improvements in cardiovascular services in south London, with reach into Kent, Surrey, and Sussex. All of which aim to:
Provide patients with access to high-quality care, in the place most suitable to their needs.
Improve standardisation of care across the network governed by quality standards and agreed pathways.
Share learning on service delivery or development from clinical best practice, service transformation, new models of care or new roles/workforce.
Improve transfer of care between specialist centres and district general hospitals.
Create economic benefits for both providers and commissioners through reduction in duplication with care provided in the most cost-effective way.
---
Learn more about through the links below.